" I don't know how love works, Dovie. I don't know how to be anything other than this, but I know the only thing that gives me hope is the idea of you and me. I know I'm not the ideal, not the dream guy, but no one will ever fight for you the way I will. I promise you that you will always have the best parts of me I have to give." Jay Crownover, Better When He's Bad
Jay Crownover has done it again! I've mentioned it before, but I'll say it again now- Jay is one of those authors where I'll buy whatever book she's releasing because I'm just that confident in her ability as a writer, as a storyteller, to know that I'll enjoy whatever she's got to share. Better When He's Bad was no exception.
In this book, we meet Shane Baxter, aka "Bax" or "Shane" depending on the mood ;) Our lovely lady of the book is Dovie Pryce. Bax is the quintessential bad boy. He's spent the past five years in jail for a crime he was setup for by his best friend, Race. Bax is bad, there's no doubt about it- he steals, he fights, he does what he needs to do to get by. Shane wants to be better for her.
Dovie grew up on the wrong side of the tracks as well, getting by however she needed to. She's fought against a hard life and has come out with goals to help others in the future. She's admittedly terrified of Bax, but can't help the way she feels for him.
" I hated to admit it, but he was all sorts of sexy felon. God, what was wrong with me? That kiss had made me stupid."
The chemistry between Bax and Dovie is great. It's as if there's a desperation between the two of them, which makes sense since they're desperately trying to find Race before the big bad Novak takes him or anyone else out. Throughout the book, Bax puts protecting Dovie above most all things. On the hunt for finding Race who's gone underground proves to be a little dangerous for Bax and Dovie, who happens to be Race's half-sister. On the hunt for Race, Bax and Dovie develop feelings for each other. They stay together to stay safe and Race stumbles upon them in bed one night.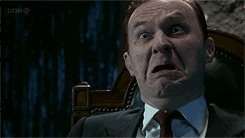 Race was NOT happy about Bax and Dovie. Bax decided to leave Dovie, leave her with Race for her protection. Bax wanted to sacrifice himself for the protection of Race and Dovie. Once Race saw how much Dovie cared about Bax and how much Bax seemed to care about her, he started to come around.
Then, the unthinkable happened!
SPOILER ALERT!!!!
Bax walked straight into Novak's trap. Novak has killed one of Bax's friends, seriously hurt Race, is cutting up Dovie right in front of Bax, and has Bax's half-brother police officer Titus down on his knees. Bax decides the only thing Novak wants more than revenge is power. Bax knows the only thing he can do to take away Novak's power is end it all. Just as Bax is getting ready to pull the trigger, the FBI storms in. A gun goes off...
You'll ust have to read the book to find out how it all ends ;) I hate to do it to you, but I LOVE this book and I want you to read it, too! If you really want to know what happens, just comment or email me and I'll let you know but I thought a bit of mystery may be fun!